<!a href="/car-news/industry/hyundai-kia-and-vw-group-join-forces-hydrogen-fuel-cell-development">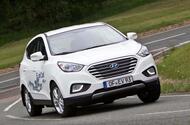 <!a href="https://www.autocar.co.uk/car-reviews/hyundai">Hyundai-<!a href="https://www.autocar.co.uk/car-reviews/kia">Kia and the Volkswagen Group - led by its <!a href="/car-reviews/audi">Audi brand - will co-operate on the development of hydrogen fuel vehicles in a deal that they believe will fast-track the technology's development and dramatically bring down costs, making hydrogen-powered electric cars a viable alternative to battery-electric cars in the near future.
As part of the deal Audi, which has acted as the VW Group's centre of excellence into hydrogen research for more than 20 years, has committed to bringing its first hydrogen-powered car to market "at the beginning of the next decade".
No details have been released beyond the fact it will be an SUV and that it will be sold as a "small series production" vehicle; it is not clear if this means it will be a bespoke model or a version of an existing vehicle modified to run on hydrogen, but insiders say that the latter is more likely because of the costs involved.
<!a href="https://www.autocar.co.uk/opinion/industry/opinion-hyundai-and-audi-join-forces-who%E2%80%99s-winner">Opinion: Hyundai and Audi join forces: who's the winner?
[ More ]
[ Read Full Story ]
Story found on http://www.autocar.co.uk/rss
---
[ Autocar RSS Feed ] [ Opinion: Hyundai and Audi join forces -~ ]