<!a href="/car-news/motor-shows-geneva-motor-show/more-powerful-renault-zoe-r110-arrives-107bhp">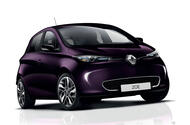 New R110 motor enables better rolling acceleration with no expected impact on driving range
<!a href="/car-reviews/renault">Renault has revealed a more powerful version of the <!a href="/car-review/renault/zoe">Zoe. Called the R110, it gets 107bhp from its new electric motor.
<!a href="/car-news/motor-shows-geneva-motor-show/107bhp-renault-zoe-r110-due-reveal-geneva-motor-show">As scooped by Autocar earlier this month, the model has 16bhp more than the existing R90. The R110 is claimed to provide better rolling acceleration, shaving 1.8sec from the R90's 12sec 80-120kph (49.7-74.5mph) time.
Off-the-line performance is said to be identical to the R90's because the R110 produces the same 166lb ft of instantly available torque. It's also expected to have the same range as its less potent sibling, although Renault is waiting until WLTP results are compiled before providing final numbers. The R90's quoted NEDC range is 250 miles, with a claimed real-world range of 190 miles.
Renault said the added grunt of the R110 comes thanks to "power electronics-related innovations" so it brings no weight or size penalties.
[ More ]
[ Read Full Story ]
Story found on http://www.autocar.co.uk/rss
---
[ Brabham Automotive car brand launched ] [ Mercedes-Benz accused of equipping vehic~ ]