<!a href="/car-news/industry/grey-topples-black-uk%E2%80%99s-top-car-colour-2018">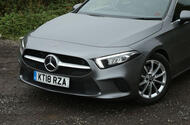 British car buyers' conservative tastes put grey, black and white in top three
Grey has become the UK's favourite new car colour for the first time since records began, now accounting for one in five purchases.
Figures from the Society of Motor Manufacturers and Traders (SMMT) show that grey has knocked black off the top spot, with 495,127 grey new cars sold last year.
British buyers' preference for dull colours continues: the top three colours were grey, black and white, which together accounted for 59% of car sales.
A primary colour hasn't been in the top three since 2010, although blue and red currently sit in fourth and fifth place respectively.
[ More ]
[ Read Full Story ]
Story found on http://www.autocar.co.uk/rss
---
[ Buy them before we do: second-hand picks~ ] [ Audi TT Roadster 45 TFSI S line quattro~ ]