<!a href="/car-news/new-cars/tesla-ceo-musk-hints-german-location-euro-gigafactory">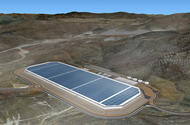 After Tesla's acquisition of German production tech firm Grohmann Engineering, the car maker is likely to build a European Gigafactory nearby
<!a href="/car-reviews/tesla">Tesla CEO Elon Musk has hinted that the firm's next <!a href="https://www.autocar.co.uk/car-news/industry/tesla-gigafactory-%E2%80%93-more-details-plus-possible-european-plans">Gigafactory production facility will be on the French-German border. 
Musk confirmed the plans for a European Gigafactory at a press conference in Germany in late 2016, after he announced <!a href="https://www.autocar.co.uk/car-news/new-cars/tesla-build-european-gigafactory">Tesla's acquisition of Grohmann Engineering. 
The next Gigafactory, however, is almost certain to be in Shanghai, pending talks with the local government. A European facility will arrive after this. 
The location of the proposed European site will put it near to Benelux (Belgium, the Netherlands and Luxembourg) countries. At the moment, however, Germany is "a leading choice" rather than a confirmed decision. 
[ More ]
[ Read Full Story ]
Story found on http://www.autocar.co.uk/rss
---
[ Citroen Berlingo 2018 review ] [ Audi appoints sales and marketing chief~ ]