<!a href="/car-news/new-cars/nissan-leaf-open-car-one-celebratory-special-roadster">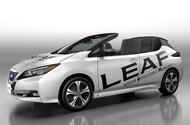 100,000 Leafs have been sold in Japan since the electric car's launch in 2010, so Nissan has cut the roof off one to celebrate
A<!a href="/car-review/nissan/leaf"> Nissan Leaf roadster concept, called the <!a href="/car-reviews/nissan">Nissan Leaf Open Car, has been created by the brand's engineers to celebrate the electric car reaching 100,000 sales in Japan since its introduction in 2010.
The roof is gone, as well as (less conspicuously) the rear doors, and there appears to be no folding-roof mechanism, making it a sunny day-only car. In addition, the Leaf Open Car adopts a four-seat layout instead of sitting five as it does in hatchback form, with a bizarre, large rear seat. 
At the front and rear, however, it's business as usual, and there are no reported changes to the car's powertrain - an AC synchronous electric motor fed by a 40kWh battery pack. 
In hatchback form, the Leaf provides 177 miles of range on the WLTP testing standard, although due to aerodynamic drag this is likely to be diminished for the Leaf Open Car. All of the Leaf's regular features, including <!a href="https://www.autocar.co.uk/car-news/new-cars/updated-nissan-x-trail-gets-propilot-semi-autonomous-technology">Propilot semi-autonomous driving and Propilot Park automatic parking, remain, however.
[ More ]
[ Read Full Story ]
Story found on http://www.autocar.co.uk/rss
---
[ Dodge Viper to return in 2020 with new 5~ ] [ BMW X5 previewed in new test images ]