<!a href="/car-news/industry/bloodhound-land-speed-project-enters-administration">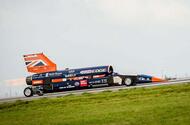 Citing a shortage of funds, the 1000mph land speed record project founded in 2007 has entered administration
Bloodhound, the 1000mph land speed record project founded in 2007 by previous record holder Richard Noble and current holder Andy Green, has entered administration, citing a shortage of funds since running the car at 200mph on Newquay Airport a year ago.
Team insiders say the project would need around £5 million to run the car at 500-600mph under jet power on its already-prepared 18km track in South Africa, around £15m to achieve 800mph and break the existing record, and around £25m to reach its ultimate goal of lifting the record to 1000mph.  
Despite the "ghastly" connotation attached to administration, the Bloodhound team insists this is far from the end for the project and may well be its means of survival. The FRP Advisory team taking the helm is the same group that recently found new owners and a stable future for the Force India Formula 1 team. Joint administrator Andrew Sheridan appears to share the optimism, describing Bloodhound as "a truly ground-breaking project that has built a global audience and helped inspire a new generation of STEM [science, technology, engineering, maths] talent in the UK".
"We wouldn't choose to be in this position," says one Bloodhound insider, "but we're greatly encouraged by the behaviour of the administrator. They recognise that we're unique, and that we've already built a great deal of global exposure. They say they wouldn't take us on if they weren't confident of a good outcome. The dream scenario is that we'll be in this state for a month or six weeks, then money will flow again and we can get back into action. We're ready to go."
[ More ]
[ Read Full Story ]
Story found on http://www.autocar.co.uk/rss
---
[ Porsche readying electric Taycan for 201~ ] [ Citroen C3 Aircross long-term review ]