<!a href="/car-news/motor-shows-geneva-motor-show/1287bhp-techrules-ren-rs-track-only-supercar-due-geneva-motor">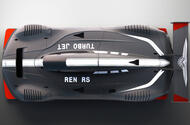 A track-only version of the <!a href="/car-news/motor-shows-geneva-motor-show/1287bhp-techrules-ren-–-first-diesel-turbine-electric">1287bhp Techrules Ren diesel-turbine electric supercar has been previewed in a new official image ahead of its debut at the Geneva motor show.
The pared-back version of the Chinese company's 2017 supercar is called the Ren RS. It has been developed with weight-saving as a priority; all non-essential parts, including its passenger seat, have been ditched.
Techrules is yet to reveal how much weight has been saved, but the standard Ren (pictured below) weighed 1700kg, enough to give it a power-to-weight ratio of 757bhp per tonne. That's 26bhp per tonne more than the <!a href="/car-review/bugatti/chiron">Bugatti Chiron, even in standard form.
<!a href="/car-news/best-cars/top-10-best-electric-hatchbacks">Top 10 best electric hatchbacks
[ More ]
[ Read Full Story ]
Story found on http://www.autocar.co.uk/rss
---
[ 2019 Porsche 911: leaked image shows new~ ]