<!a href="/opinion/tester%E2%80%99s-notes/matt-prior-are-some-proposed-hypercars-just-photoshop-fantasy">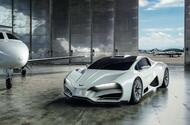 I've had emails from one or two of you agreeing that the ideal sports car I described in the 25 July issue — a two-seat coupé as compact as a <!a href="/car-review/toyota/gt86">Toyota GT86, and not much more powerful, but with a front-mounted 3.0-litre V12 engine — sounds like something you'd also like to drive.
Disappointingly, however, no offers for me to become the CEO of a company creating this £200,000 (before options) masterpiece have been forthcoming. Which is a pity. I'd have taken COO. Head of engineering. Head of dynamics, design, catering… whatever, really.
Such is — genuinely — the respect I have for anybody who tries to build a new sports car. It's a more noble career than writing about them, certainly. But, nevertheless, with a heart that I fear is heavy rather than full of beans, I need to tell you more about the <!a href="/car-news/new-cars/austrian-firm-launches-1325bhp-milan-red-hypercar">Milan Red, the Austrian 1325bhp hypercar that intends to show the world what Austrian companies are capable of.
Some of them are pretty good at Photoshop, clearly. But beyond that, Austrian companies have given us Red Bull and Swarovski, Spar and <!a href="/car-reviews/ktm">KTM. This is a country I'm confident already knows about highly profitable syrupy drinks, glass and convenience minimarkets. Plus motorcycles and niche sports cars.
[ More ]
[ Read Full Story ]
Story found on http://www.autocar.co.uk/rss
---
[ Insight: What's up with UK car market? ] [ Buy them before we do: second-hand picks~ ]