<!a href="/car-news/new-cars/2019-bentley-flying-spur-larger-and-more-luxurious-saloon-spotted">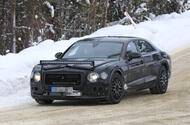 <!a href="/car-reviews/bentley">Bentley is testing its upcoming <!a href="/car-review/bentley/flying-spur">Flying Spur in Scandinavia before the car is launched in 2019 as its latest answer to the <!a href="/car-review/mercedes-benz/s-class">Mercedes-Benz S-Class.
The new four-door, which is larger and more expensive than the S-Class but smaller and less extravagant than the <!a href="/car-review/rolls-royce/ghost">Rolls-Royce Ghost in the ultra-luxury saloon segment, will share much of its technical make-up with the <!a href="/car-news/new-cars/2018-bentley-continental-gt-first-drive">upcoming Continental GT.
That means it will be built on the same <!a href="/car-reviews/porsche">Porsche-developed MSB platform, bringing with it large improvements to structural rigidity and insulation, but the <!a href="/car-news/motor-shows-frankfurt-motor-show/new-bentley-continental-gt-revealed-full-specs-and-video">Flying Spur will trade sporting performance for ride comfort.
Bentley was involved in the MSB's development from the very beginning, so its requirements to enable maximum ride comfort – more than any Porsche model needs to offer – will have been designed into the structure from the off.
[ More ]
[ Read Full Story ]
Story found on http://www.autocar.co.uk/rss
---
[ Autocar confidential: Ferrari on electri~ ] [ Seat Tarraco name confirmed for future X~ ]